✔No More Folded Up Cardboard Under Table Legs! These furniture leg levelers with felt allow easy leveling of furniture at home, office, restaurant, school or café, to match in same height, and allows raising your furniture.

✔Adjustable Furniture Levelers- 1" Long steel insert with 1/4"-20 thread; 1/2" Thick base with high density felt;Sturdy 1" Diameter Base and Fully Adjustable Height from 0.5" to 1.25" for Maximum Support and Adjustability.

✔Easy Installation- For furniture legs with existing 1/4"-20 thread, simply screw in the leg leveler to adjust the height. Or, pre-drill a 5/16" hole and insert the t-nut for universal installation, screw in the Levelers and adjust to the desired height. (Comes with Installation Instruction.)

✔High Density Felt Floor Protectors - Pre-installed with high density thick felt to protect your hardwood floor from scratches or harsh noises which works far better than the stick-on pads.

✔Heavy Duty and High Quality- Commercial quality standard furniture levelers, T-nuts and thread insert are made of stainless steel that support over 100lbs per feet, so a set of four can support furniture over 400lbs!
Product Description

Anwenk Furniture Levelers Adjustable Furniture Leveling Feet with Felt Protectors, 1/4"-20 x 1", Support 400lbs
These adjustable furniture levelers help save your furniture! No more folded cardboard under table leg just to have a peaceful sit.
The leg levelers allow easy leveling of your furniture and adjust the height of furniture. They work out perfectly as replacement in your table, office table, sofa, couch, ottoman bench, chair, bed and more!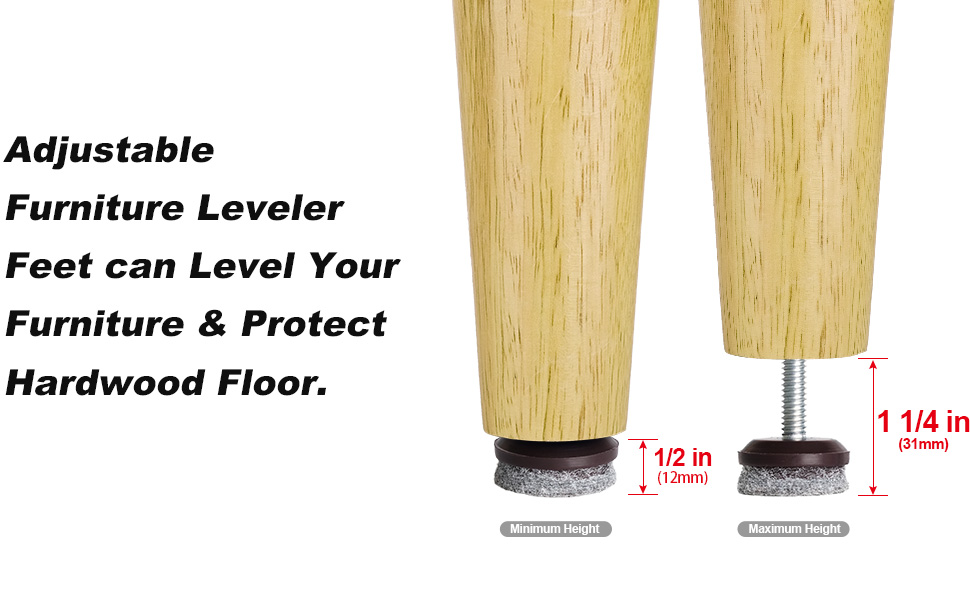 Features:
▲ They can be used as replacement feet or install in wood furniture leg by drilling a 5/16 inch hole and inserting t-nut.

▲ Durable high density felt floor protectors to allow your furniture to glide smoothly and quietly along any floor to prevent scratches, scrapes or harsh grating.

▲ Heavy duty furniture levelers that support over 100lbs per leveler. (Set of 4 Supports over 400lbs)

▲ Stainless Steel thread insert and t-nuts, commercial quality standard.

▲ Adjustable Height from 0.5"~1.25" .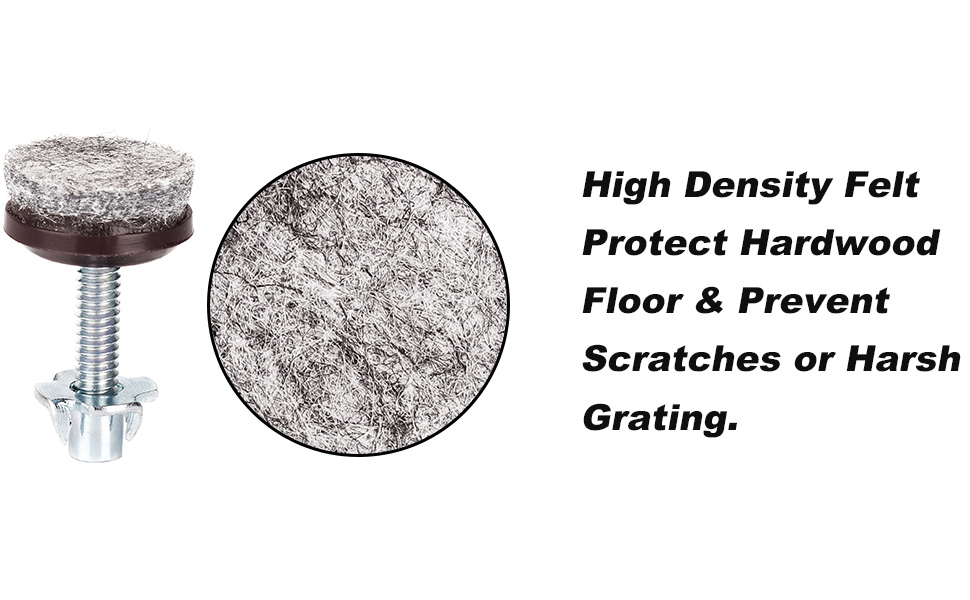 Specification:
Dimension:
Thread Type: